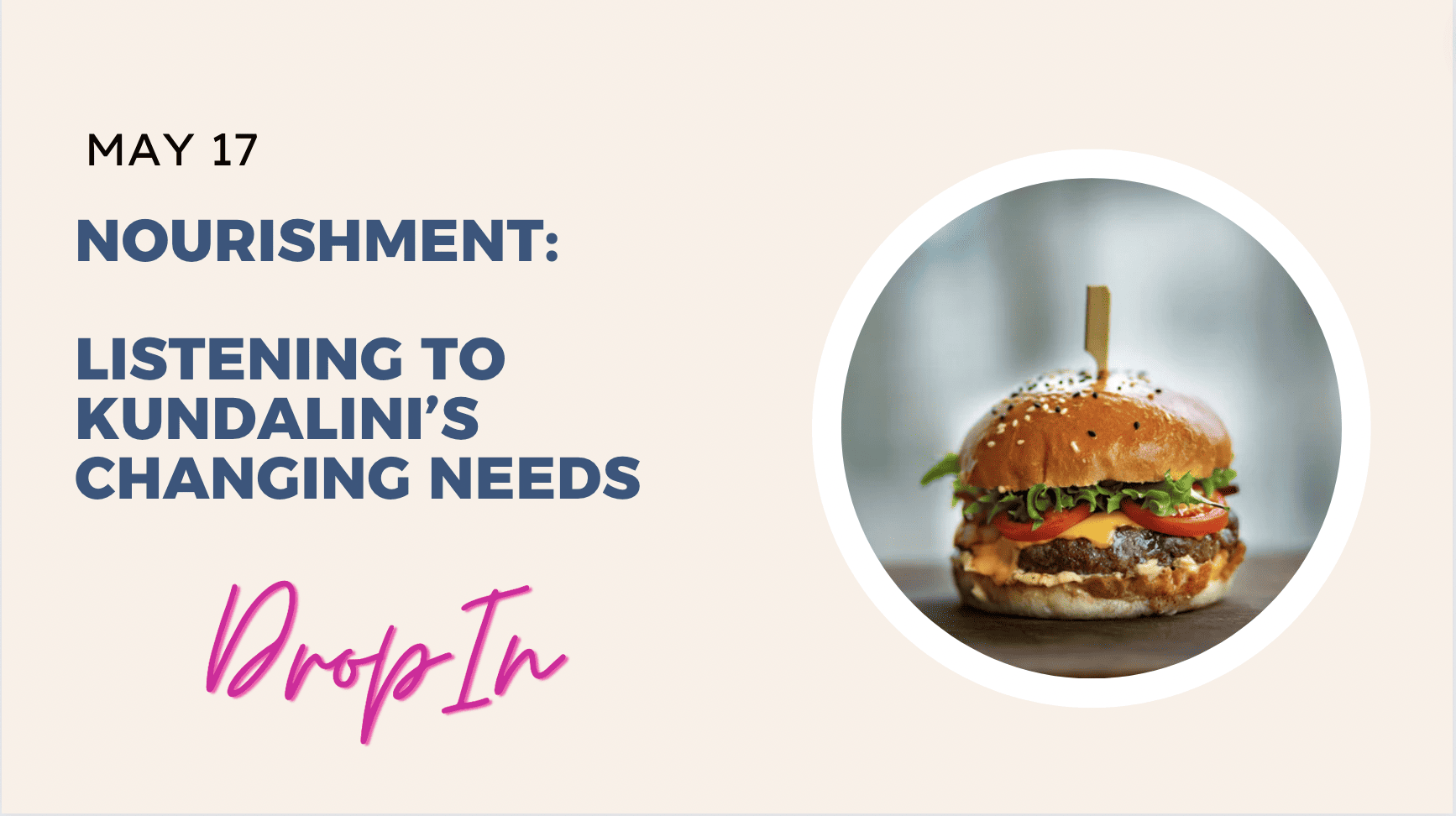 Kate West and I are excited to announce the topic of our Monthly Drop-in Class:
Nourishment: Listening to Kundalini's Changing Needs
Imagine this: You are sitting on your meditation cushion and all of a sudden you are overwhelmed with a vision of a juicy hamburger. Your mouth waters, your stomach rumbles, and your concentration goes out to lunch!
Is this a sign that you should run out to the nearest fast food place, quit your vegetarian diet, and buy a burger? Or is it an old habit that is being purged? Or is the burger a symbol of a deeper need for nourishment?
I was shocked when my spiritual teacher (a long time vegetarian) told me that my body was depleted, and that I needed to eat a little chicken or lamb. I had not eaten any meat in almost 20 years.
It can be quite challenging to figure out what your body needs in terms of nourishment when you are in the middle of the roller coaster ride of the awakening process.
Some people end up choosing extreme diets – everything from juice fasts to all protein and fat diets – and yet these fad diets may not be appropriate for your individual energy system.
Finding the right nourishment for your own body is important, so that your spiritual process can flow more easily.
Nourishment is not just about the right food either. It can be anything that increases the prana or energy, in your physical and subtle bodies.
This month we will focus on understanding the different types of nourishment your body needs as you go through the Awakening/Kundalini process.
We will look at the specific needs of each of the chakras as part of our discussion.
These topics have been selected with the challenges of your spiritual awakening process in mind. They are a compilation of the most frequent inquiries we have received from all of you over the past year.
Each class will start with an introductory talk by Dani, followed comments from both Kate and Dani, and then we will open the conversation to the group for a lively discussion.
Each class will be an hour and fifteen minutes long, to allow for ten minutes of silence at the end, so we can support your integration process and amplify the group energy field.
All who are on a spiritual path are welcome, you needn't be in a Kundalini process to attend.
Nourishment: Listening to Kundalini's Changing Needs
Wednesday, May 17, 2023
9 – 10:15 am PST, 12 – 1:15 pm EST
These classes will be recorded, and the recording will be sent out to all who register for the class.
For more info and the full lineup of monthly classes click the Register Now button below.